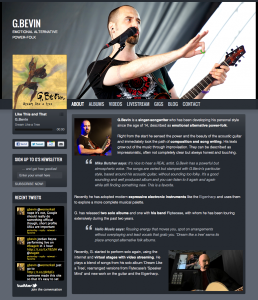 Welcome to my brand new website! The previous one was long overdue for a make-over as it I put it online more than 13 years ago! Wow, that's a long time. This was before the prevalence of blogs, social networks, artist communities, video sharing … mp3 was still a novelty! 🙂
Since I've been very active on a lot of the social networks and have been creating quite some content, I thought it all sorely needed a central hub for easy access.
Do sign up for my newsletter as it's the easiest way to get information about what's going on in my music world. From time to time I'll also send out free content. I'm still working on a section of the site that will contain information and downloads, only accessible to subscribers, stay tuned for that!
If you're into live music, you're in luck as I'm probably doing an online show soon, it's all there in my gig calendar. Most of these are done on Livestream and there's a dedicated live section on my site for it … easy, no?
Finally, I love hearing from you! Don't hesitate to send me a direct email or to get in touch on G+, Twitter or Facebook.